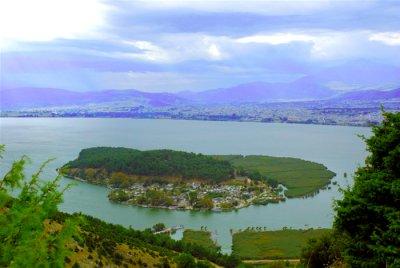 Ioannina is the largest city of Epirus and capital of the prefecture. Built on the northwest side of lake Pamvotida, Ioannina is one of the most beautiful cities in Greece, with an important course in the nation's history. The modern buildings and shopping centers coexist with the well preserved buildings of the beautiful old city (around Kastro), the imposing monuments, the picturesque neighborhoods, the popular-art workshops, the pedestrian walkways and the large squares. Ioannina has a large and thriving academic community which brings a lively and creative dynamism to the city. Daily life in the city is full of intellectual and artistic events. There are also important sports events, mainly held at lake Pamvotida. The city which is fortified by Byzantine walls was one of the most important cities of the Despotate or Principality of Epirus.
During Ottoman rule, Ioannina enjoyed many benefits, as the city reached its peak and played a leading role in the intellectual resurrection of the nation. A particularly important but enigmatic figure was the Turk-Albanian ruler, Ali Pasha, who left his indelible mark on the city in the late years of Ottoman rule. Ioannina was liberated from Turkish rule on February 21st 1913, during the 1st Balkan War. It is located 450 km NW of Athens (via Rio-Antirio) and 370 km SW of Thessaloniki (via Kozani).
For further information on the city of Ioannina and the surrounding locations please click here.
The Region of Epirus
The Region of Epirus is located in the northwest of Greece. The mountainous area is dominated by the Pindus range, where the homonymous national park is located. one of the last biotopes of the brown bear all over Europe. The flora in Epirus is one of the richest in Greece, not only because of its diversity but also due to the existing rare species.
The region includes a considerable number of nature protected areas: 29 Natura 2000 and a Ramsar site (Amvrakikos Gulf). The coastal biotopes (the Delta of Kalamas and Acheron, the Kalodiki marsh and Amvrakikos Gulf) host rare species of birds like the silver pelican.
Epirus is home to many monuments of all periods: prehistoric, ancient Greek, Roman, Byzantine and post Byzantine as also as Ottoman. The traditional settlements, especially on the mountainous areas of Zagori and Tzoumerka, are remarkable due to the architectural style of stone made buildings. The impressive stone bridges bring memories of travellers of the past who were travelling to other parts of Europe and the Balkans.
For more information about the region click here.  
Popular tourist destinations in the region
The Region of Epirus has many popular and beautiful destinations for the interested visitor. A few worth visitng are: